Schwietert Chiropractic Clinic | Family Recipes
From Our Hearts, To Your Table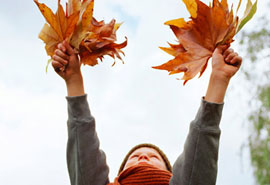 Welcome to our recipe-section of the website.
We're putting this collection of recipes together to show our appreciation for great patients like you (and good food of course)!
We love to cook, and even more so, we hope you enjoy the recipes to come as much as we have!
Drs. Jim and Deb Schwietert
---
Jim and Deb's Dry Roast Ribs
Let's Prepare!
I use Emeril's Essence Seasoning mixing 50:50 with brown sugar. This will make 1 cup total to start (1/2 cup each). You can mix more if you need it! We buy spare ribs from Sam's which gives you 3 racks.
1. Preheat the oven to 450º.
2. Cut the ribs into thirds.
3. With a Pampered Chef covered baker stoneware, spray the pan with Pam.
4. Stack pieces of ribs into roaster.
5. Sprinkle with the seasoning on the top and bottom before putting them into the pan.
6. Continue to layer ribs and sprinkle seasonings into roaster until all meat has rub and is nestled in together.
7. Add some water to the bottom of the roaster, trying not to wash the seasonings off the meat as you pour in.
Now it's Time to Roast
Roast the ribs for 30 minutes at 450º before turning the temperature down to 325º for 2-3 hours. Then, turn it down again to 250º until you serve. There will be a lot of moisture in the pan at this point so be careful as you open the pan.
Tip: You can slow cook the ribs after this point in the oven. You just need to turn down the temperature a little until you serve them. You really can't overcook them, just watch that they don't get too much moisture and spill over into the oven. I call this a dry roast because they don't cook in BBQ sauce.
Make the BBQ sauce in another pan. You can make homemade BBQ sauce or use bottled BBQ sauce and add garlic, pan juices and some of the rub seasoning.
Now, just enjoy with your loved ones!
Love,
Deb
---
Deb's Freezer Salsa | Always There When You Need It
This recipe came about as a result of Doc's 1,000 tomato harvest coming in after school starts. I would always complain that I have all summer to can but the salsa has to be done in September. For you teachers out there, you know what I am talking about. The Doc also grows massive quantities of peppers, hot ones. We freeze the peppers in ziplocks as they come in, so there are always plenty available to use for salsa, pepper jelly or whatever you like. Don't thaw the peppers, slice frozen just as much as you need and put the rest back in the freezer.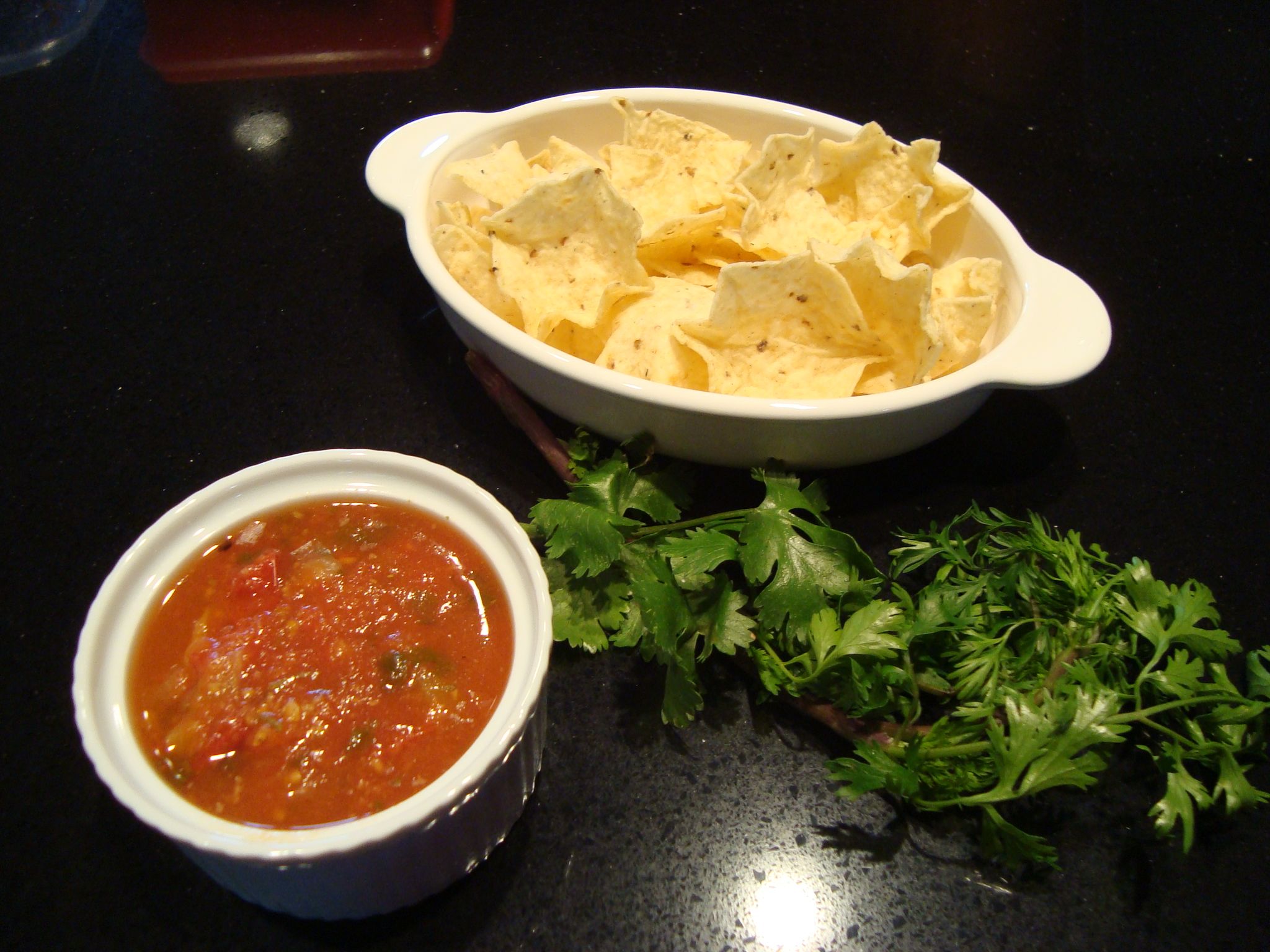 What You'll Need:
• Tomatoes, washed and blossom end cut out 15 #
• Fresh cilantro, chopped 2 c
• Large onions, coarsely chop 2
• Garlic cloves, press 10
• Serrano peppers, chopped-10 mixed size
• Habanero peppers, sliced extremely thin and chopped 1
• Green peppers, chopped 2 peppers
• Cumin 2 tablespoons
• Sea salt, 1 tsp
• Vinegar, apple cider 1 T
• Lime juice 3 T
How To:
1. Wash tomatoes and use a food processor or blender to partly blend- until they are liquid and part bigger pieces.
2. Put in large soup kettle and add remaining ingredients.
3. Stir well and bring to a boil.
4. Turn stove down to barely simmer and let cook an hour or two until water cooks off.
5. Put in Tupperware, label/date and freeze.
6. Enjoy!
Splayed Chicken On The Grill
What You'll Need:
Whole chicken
Lawry's Seasoned Salt
Lawry's Garlic Salt
Paprika
3 limes
Chopped cilantro
Clean a whole chicken. Cut the backbone out. I use a kitchen shears and cut along one side, then cut right next to it on the other side. Place chicken on a cookie sheet and dry slightly with paper towels, leave some moisture for the seasoning to stick. Lay breast side up. Press chicken flat on the cookie sheet. Pretend you are a chiropractor and adjust the center to flatten as much as possible! You may thread two skewers in an X pattern through chicken to hold in that position. We go without. Skewers, that is – not adjustments!
Sprinkle both sides generously with Lawry's Seasoned Salt, Lawry's Garlic Salt and paprika.read more»
Gas Grill: Preheat one side of your grill (you will place the chicken on the other side) to 350º for 15 minutes, cleaning off the grates with a wire brush so they are hot and clean but food won't stick to them. If you don't have a thermometer on your grill, just get it medium hot. Don't stress about the temperature or the length of these directions. It is really not that hard. I just err on the side of too many directions rather than too little. Once you make this chicken, you really don't read these again for the second time!
Charcoal Grill: If using a charcoal fire, you will have to build your briquette's up and start. Let them get a bit grey around the edges and not so hot – this took about 30-40 minutes on our Weber. Yours could take longer or shorter. The important thing is that you have enough briquettes to keep burning for 1 ½ – 2 hours. Before you put the grate back on top of the briquettes, use your tongs and move all the briquettes to one side of the grill in a slope toward the left side. Put the grate back on the grill. Make sure it is scraped with your wire brush, but not clean, clean – you want that seasoning on the metal so your food won't stick. You will put the chicken on the right side so it is not in direct heat. Cover and close vent for first ½ hour – don't open or flip.
Place chicken on the grill. If you didn't read the grill section for your type of grill above, put the chicken on one side and heat the other side of the grill. You want indirect slow heat.
Cook for about 1 ½ hours. Flip every ½ hour and baste with lime/cilantro mixture.
Lime~cilantro Mixture: juice 3 limes and mix with some chopped cilantro.
Take off the grill and put on platter. Let rest for 10 minutes to allow juices to settle. Serve with your favorite side dish or shred for tacos.
Optional: You may want to do 2 chickens and put one in the freezer! The flavor of this meat really can't be beat and can be used for salads, soups, pasta, pretty much anything.
Optional: feel free to use any combination of seasonings and spices. These are the ones I use because they work really well for me. If you have other seasonings you want to try, go for it! If you come up with something sensational, make sure and share it with Doc, he is always up for trying something new!
Eggs Benedict
Sauce: Make Knorr Swiss Hollandaise sauce
(Poach Eggs): Put eggs into fry pan that has water simmering – when whites are done, the yolk is done, strain well
Warm canadian bacon while poaching eggs
Toast English Muffins
Assemble:
layer muffin half
canadian bacon
egg
sauce
sprinkle with cayenne pepper or paprika
Enjoy!
Want to make it healthier?
Substitue low fat Canadian bacon for the ham
Hollandaise sauce – use just a tsp or so of butter instead of following package directions
Eggs – use whites only or whole egg
Use whole wheat English muffins
Deb's Marinara Sauce
6 pound(s) canned diced tomatoes, blend and put into crock pot
2 cup(s) uncooked onion(s), Chop and saute in olive oil
1 Tbsp olive oil, Saute onions, when translucent add garlic, cook and add
7 clove(s) (medium) garlic clove(s), Chop garlic and add to onions to saute.
2 tsp black pepper, Add to crock pot
fresh basil – 1 c chopped
1 Tbsp sugar
Instructions:
Saute onions and garlic in EVOO and add to crock-pot. Blend diced tomatoes slightly and add to crock pot. Simmer 4 hours. Use immediately or let cool and refrigerate 4 days or freeze up to 3 months.
English Muffin Bread
2 cups milk
1/2 cup water
2 tablespoons cornmeal
5 cups bread flour
2 Tablespoons instant dry yeast
1 tablespoon white sugar
2 teaspoons salt
1/4 teaspoon baking soda
Warm the milk and water until very warm 125º. Grease two loaf pans by spraying liberally with Pam. Preheat oven to 400. In a large bowl, mix together 3 cups flour, yeast, sugar, salt and soda. Stir milk into the flour mixture; beat well. Stir in the remaining flour, 1 cup at a time, until a stiff batter is formed.
Dough will be very sticky, don't try to knead it, just divide batter into the two pans. Spray with Pam and flatten tops.
Let rise near oven until it rises to the top of the pan, about 30 minutes.
Bake until golden brown, about 25 minutes. Remove from pans immediately and cool…then enjoy!
Thanksgiving Crock Pot Stuffing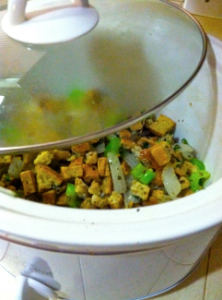 ½ cup butter (use only what you need – but this does add a lot of flavor)
2 cups chopped onion
2 cups chopped celery
1/4 cup chopped fresh parsley
12 ounces sliced mushrooms
12 cups dry bread cubes
1 teaspoon poultry seasoning
1 1/2 teaspoons fresh sage
1 teaspoon fresh thyme
(1/2 teaspoon dried marjoram)
1 teaspoons salt
1/2 teaspoon ground black pepper
4 cups chicken broth, or as needed (start small (2 c) and add more to your taste)
no eggs used
Melt butter in a skillet over medium heat. Cook onion, celery, mushroom, and parsley in butter, stirring frequently.
Spoon cooked vegetables over bread cubes in a very large mixing bowl. Season with poultry seasoning, sage, thyme, marjoram, and salt and pepper. Pour in enough broth to moisten. Transfer mixture to slow cooker, and cover.
Cook on High for 45 minutes, then reduce heat to Low, and cook for 4 to 8 hours.
Share and enjoy with loved ones! Happy Thanksgiving!
Cranberry Sauce With Crystallized Ginger
2 12-ounce bags cranberries
1 1/2 cups sugar
1 cup orange juice
1 cup water
1 tablespoon grated orange peel
1-2 teaspoon ground ginger
1/2 cup (about 2 ounces) minced crystallized ginger
Combine first 6 ingredients in heavy medium saucepan. Bring to boil, stirring until sugar dissolves. Boil until cranberries pop, stirring occasionally, about 5 minutes. Cool. Mix in crystallized ginger. (Can be prepared 3 days ahead. Cover and refrigerate.)
Serve, and enjoy!
Contact our Schwietert Chiropractic Clinic now to schedule an appointment with Dr. James Schwietert (or ask him for more recipes).
---
Schwietert Chiropractic Clinic | (605) 342-0748
Helping families in the Rapid City,
Sturgis and Spearfish communities through chiropractic care.